Escala Salcedo - LOCATION
The accessibility of Escala Salcedo is truly remarkable. It is strategically situated along L.P. Leviste Street formerly known as Alfaro Street and San Augustin Street, a fast-growing food haven. What is more attractive is the fact that the development is set against a backdrop of lush open area, arguably the last remaining in Makati.
It is rare not just in Makati, but in many cities around the world where you get warm and intimate settings meshed into the central business district fabric. In Makati, this is happening. The urban conveniences of Makati central business district blend well with the serenity of Salcedo Park.
In case you are wondering what is so special with Salcedo Park, well this is one of the 4 pockets of green that are located in the CBD. In this park, there is a popular weekend market known as Salcedo Community Market and it also plays host to the bi-annual Art in the Park, a contemporary art fair. The park has a playground for children, a trellised walkway, stone benches, and grassy lawn. It is the perfect relaxing place after a busy week.

Commercial Establishments

Escala Salcedo is just a few minutes from some of the most vibrant commercial establishments. To give you a taste of a few of these commercial spaces, there is:
Greenbelt Mall – This is an award-winning shopping mall opened way back in the 1980s. It offers high-end retail shops, leisure, and entertainment joints, restaurants, and other establishments.

Glorietta – This is another large shopping mall and the 8th largest in Philippines. It was opened in 1992 and currently has about 250,000 square meters of retail floor area.

Rustan's – This is a chain of upmarket department stores founded in 1952. It specializes in clothing, furniture, cosmetics, houseware, footwear, jewelry, and so much more.

Ayala Triangle Gardens – Located on a 4.9-acre piece of land, this facility was opened to the public in 2009 and sits right in the middle of Makati central business district. Just like the Salcedo Park, it is a place for relaxation.

Hotels and Serviced Apartments
There are a number of hotels and fully serviced apartments a few minutes away from Escala Salcedo. These are facilities that come in handy if you want venues for meetings or you have functions that for some reason you don't find it appropriate to hold them within your home. among the top hotels and serviced apartments include:
Scott Makati
Fairmont Hotel
Intercontinental Manila
The Peninsula Manila
Mandarin Oriental
Four Seasons Serviced Apartments
The Picasso Boutique Serviced Residences

Churches
There are a quite a number of prominent mainstream churches around the development. Churches such as St. John Bosco Parish, St. Andrew the Apostle Parish, Greenbelt Chapel, are popular with believers in Philippines and indeed around the world.

Education Institutions
If you are looking for a residence closer to career development and education facilities, Escala Salcedo has it all and this is why. There are prominent institutions with a high-quality of teaching practice a few minutes' drive from the property. Among these schools include:
Don Bosco Technical Institute
Assumption College
FEU Makati
Asian Institute of Management
School of Fashion and Arts
Ateneo Professional Schools
 
Simply said, this location has it all. Living here is more than an experiential journey as each day unfolds in a magical way.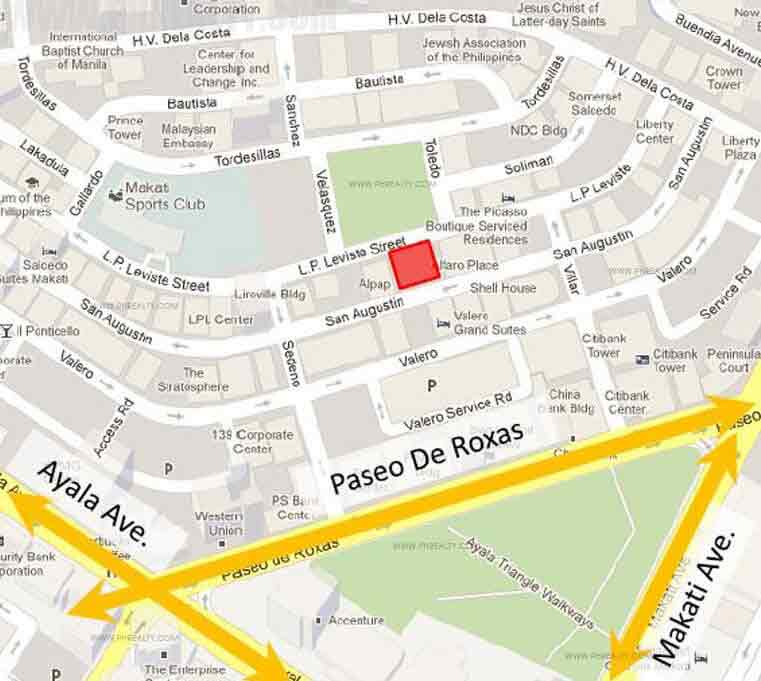 Located along L.P. Leviste (Alfaro) and San Agustin Streets, Escala Salcedo will be a rare signature address set against the lush backdrop of one of Makati's last remaining lush open area. Homeowners who value warm and intimate settings woven into the dynamic cultural fabric of the Makati Central Business District will appreciate its seamless proximity to Jaime C. Velasquez (Salcedo) Park and at the same time relish all the urban conveniences of city living.
The location is just minutes away from commercial establishments such as Greenbelt, Glorietta Mall, Rustan's Mall, and the Ayala Triangle Gardens. It is also near hotels and serviced apartments such as the Scott Makati, the Internconinental Manila and the Peninsula Makati. It is nevertheless near well-known schools such as the Asian Institute of Management, the Ateneo Professional Schools, the RCBC-DLSU, FEU Makati and Don Bosco Technical Institute.